Social Media Checklist for Business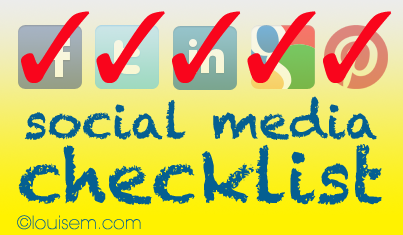 Social Media is a very powerful marketing platform for any business, but how do you know what to do? The typical business owner ask the same questions when social media is recommended for them. How do I blog? How many tweets do I send? What should I do on Facebook? What about LinkedIn? 
This is a very simple social media checklist to help any business owner with what they should be doing at minimum for these different platforms. 
Write 3 new blog post a week

Have 3 targeted keywords that you include in every blog post

Share the blog post link on:

Facebook

Twitter

LinkedIn

Google +
Find and Like 5 new pages a week

Update company page status daily

Post about 2 interesting topics related to your business

Ask people to comment, like or share post
Re-tweet 2 interesting tweets a day

Follow 10 new people a week

Send at least 3 new tweets daily

Business related

P

romotional

Fun & Interesting

Circulating the blog post
Update Company profile and status

Connect with 3 – 5 new people per week

Ask for 1 -2 recommendations per week

Follow 3 new companies
Add 5 new people to your circle a week

Offer a Google + Hangout session for a related topic in your industry

Share content at least twice a day to your personal Google + profile and company page

Host a monthly Google + hangout for a topic your industry
Each month, post product images and examples of our work from our company website as pins leading back to the site

Follow 5 new interesting and inspiring pin boards each week from other users related to our field

Add 1 new board that contains at least 6 new pins each week
Find 3 new videos each week to share on Facebook, Twitter, and Google +

Plan a video that showcases an area of our businesses expertise

Have video capability at special events our business hosts or attends each month. Ask for brief interviews to post to YouTube.
This social media checklist should be used as a guide to help any business owner with their social media platform. These are the typical minimum requirements necessary to perform properly and see results.